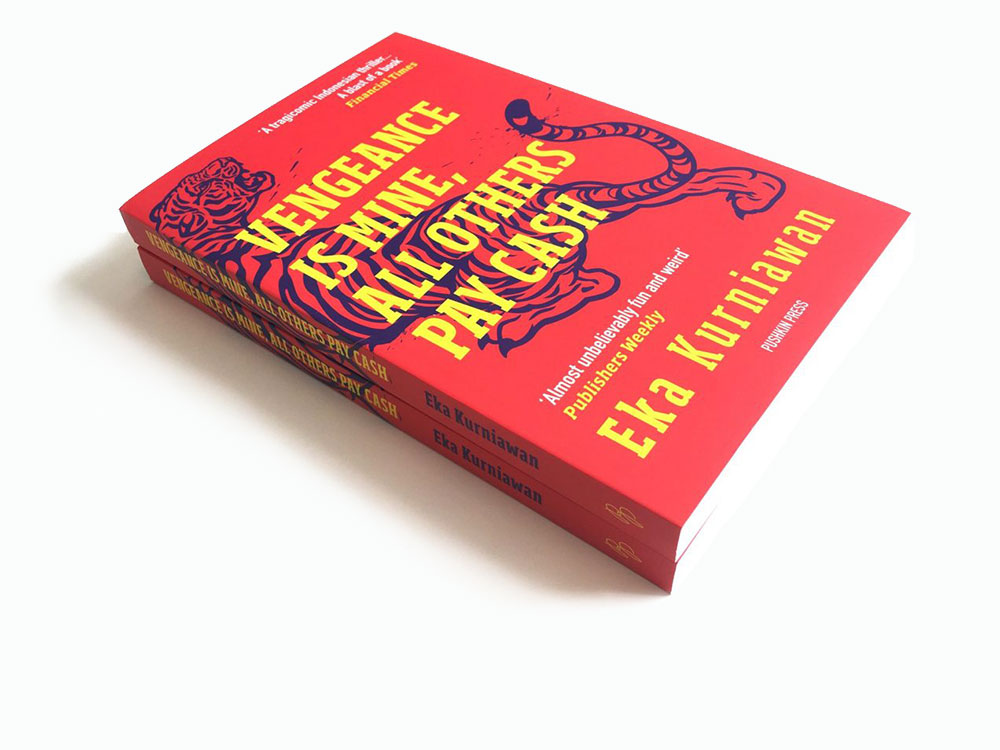 English Translation of "Seperti Dendam, Rindu Harus Dibayar Tuntas"
Translated by Annie Tucker

Published by: New Directions Books, 2017 (US); Text Publishing, 2017 (ANZ); Pushkin Press, 2017 (UK);Speaking Tiger, 2017 (India)
Told in short, cinematic bursts, Vengeance Is Mine, All Others Pay Cash is gloriously pulpy. Ajo Kawir, a lower-class Javanese teenage boy excited about sex, likes to spy on fellow villagers in flagrante, but one night he ends up witnessing the savage rape of a beautiful crazy woman by two policemen. Deeply traumatized, he becomes impotent. His efforts to get his virility back all fail, and Ajo Kawir turns to fighting as a way to vent his frustrations. He gets such a fearsome reputation as a brawler that he is hired to kill a thug named The Tiger, but instead Ajo Kawir falls in love with Iteung, a gorgeous female bodyguard who works for the local mafia. Alas, the course of true love never did run smooth… Fast-forward a decade. Now a truck driver, Ajo Kawir has reached a new equanimity, thinking that his penis may be trying to teach him a lesson and even consulting it in many situations as if it were his guru—love may yet triumph.
Vengeance Is Mine, All Others Pay Cash shows Eka Kurniawan in a gritty, comic, pungent mode that fans of Quentin Tarantino will appreciate. But even with its liberal peppering of fights, high-speed car chases, and ladies heaving with desire, the novel continues to explore Kurniawan's familiar themes of female agency in a violent male world dominated by petty criminals and a corrupt police state.
"Kurniawan also skilfully manages to save his pulp fiction type novel from getting into that genre."
– Jackson Arn, Asymptote
"And as high-end pulp fiction, Vengeance is Mine, All Others Pay Cash is superb."
– Tim Hannigan, Asian Review of Books.
"A darkly comic tale of boyhood"
– Jane Yong Kim, The Atlantic.
"This is an almost unbelievably fun and weird novel."
– Publishers Weekly.
"Whether or not a political fable is intended, the squelch of blood and the crack of breaking bones tends to muffle any deeper message."
– Financial Times
"Despite Vengeance Is Mine's consistent bloodshed, it's a very funny book."
– Bradley Babendir, Los Angeles Review of Books
"… habitually drives his narra­tives between the extreme poles of the crass and the sublime, the tragic and the comedic, the surreal and the real."
– Bron Sibree, South China Morning Post
"Kurniawan has become the rare Indonesian author to break through to a typically translation-allergic U.S. market […] Vengeance Is Mine promises dark, sexually charged and subversive comedy …" – Huffington Post.
"I believe the phrase is 'page-turner.'"
– Words Without Borders
"It's funny, enraging, and touching." 
– Village Voice
"Thrilling … an engrossing, emotionally rankling speed-read … original and sure-footed."
– Jane Graham, The Big Issue
"Eka Kurniawan's hugely inventive fiction is a potent blend of grounded realism and flighty fantasy."
– The Economist
"Vengeance is wonderfully entertaining, and highly cinematic, its critique of patriarchal Indonesian society wrapped in picaresque adventure and anarchic comedy."
– Keshava Guha, The Hindu.
"Indonesian-born Eka Kurniawan is one of the most exciting writers active today. Vengeance Is Mine, All Other Pay Cash is a madcap noir featuring an impotent gangster who undertakes a violent and epic quest to regain use of his 'little bird'. encountering bewitching martial artists, truck drivers, and vicious criminals along the way."
– The Culture Trip.
Other Works in English Translation
Man Tiger, translated by Labodalih Sembiring, Verso Books (2015); Speaking Tiger (2016).
Beauty Is a Wound, translated by Annie Tucker, New Directions (2015); Text Publishing (2015); Pushkin Press (2016); Speaking Tiger (2016).