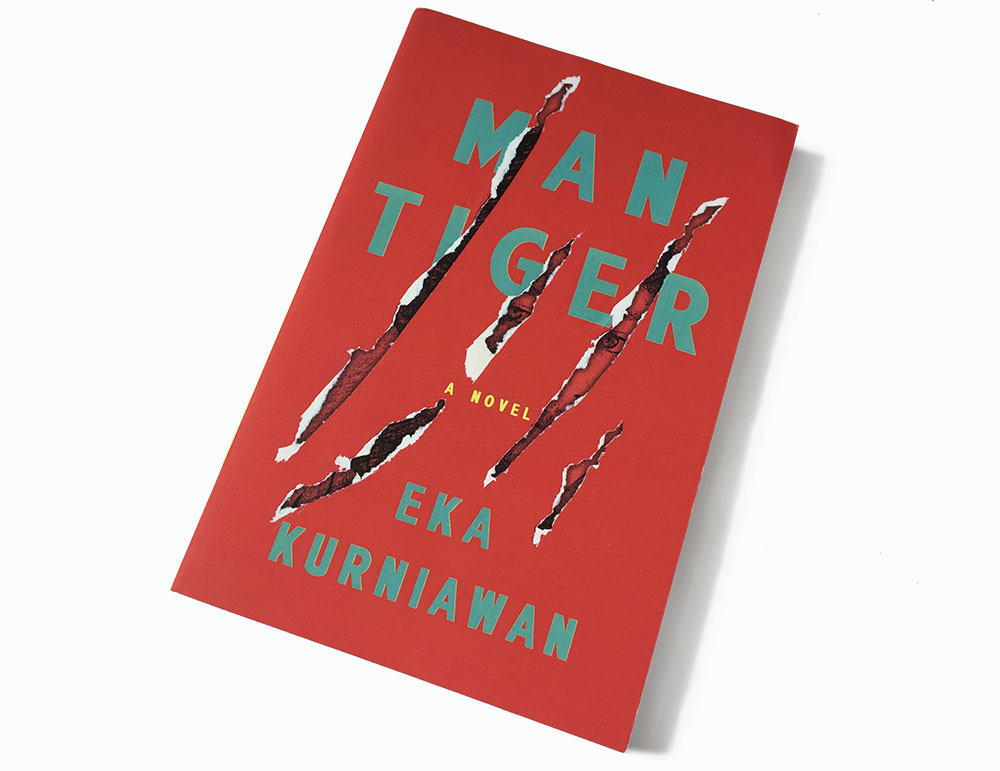 English Translation of "Lelaki Harimau"
Translated by Labodalih Sembiring
Introduction by Benedict Anderson

Published by: Verso Books, 2015 (World); Speaking Tiger, 2016 (India)
A wry, affecting tale set in a small town on the Indonesian coast, Man Tiger tells the story of two interlinked and tormented families and of Margio, a young man ordinary in all particulars except that he conceals within himself a supernatural female white tiger. The inequities and betrayals of family life coalesce around and torment this magical being. An explosive act of violence follows, and its mysterious cause is unraveled as events progress toward a heartbreaking revelation.
Lyrical and bawdy, experimental and political, this extraordinary novel announces the arrival of a powerful new voice on the global literary stage.
"In terms of the literary novel, the year's most stirring revelation is Eka Kurniawan … Imagine if Gogol adapted the films of Weerasethakul into novels."
— Jonthan Sturgeon, Flavorwire
"Man Tiger and Beauty Is a Wound constitute a retort from the present to the dark times, while also acknowledging that the dark times may not yet be over."
— Siddhartha Deb, New Republic
"Tight, focused and thrilling. Like a good crime novel, Man Tiger works best when read in a single sitting, and its propulsive suspense is all the more remarkable because Kurniawan reveals both victim and murderer in the first sentence."
— Jon Fasman, The New York Times
"Man Tiger is a novel of mystery, suspense, and magical realism … Kurniawan has already been compared to writers like Gabriel García Márquez, so he's for sure one to put on your list."
— Susie Rodarme, Book Riot
"This first English translation of Indonesian author Eka Kurniawan's output is intense, thrilling and violent."
— Paul Simon, Morning Star
"[It's] telling that many have deemed Kurniawan the next Pramoedya Ananta Toer, an acclaimed pioneer of socialist realism."
— Gillian Terzis, The New Yorker
"A slim, wry story … at once elegant and bawdy, experimental, and political."
— Allison Noelle Conner, The Offing (from The LA Review of Books)
"Kurniawan's writing demonstrates an affinity with literary heavyweights."
— Deborah Smith, The Guardian
"Man Tiger may not seem like much of a murder mystery, given that the opening words reveal who killed whom, yet in retracing the steps that led to the crime, as 'cut and dried' as it seems, and in exploring the motive behind it—revealed only at the book's conclusion—Kurniawan keeps the reader in mystery-like suspense."
— M.A. Orthofer, The Complete Review
"The world Kurniawan invents is familiar and unexpected, incorporating mystery, magical realism, and folklore … Biting and beautiful … This wild and enthralling novel manages to entertain while offering readers insight into the traditions of a little-known South East Asian culture. Kurniawan has officially put the West on notice."
— Publishers Weekly

"Kurniawan's prose holds an often-leashed power much like the tiger inside Margio; he can stun with a single sentence, like the crackling opening line of the novel or its heart-thudding concluding one."
— Claire Fallon, The Huffington Post
"[Kurniawan] seems destined to join the ranks of our great storytellers like Salman Rushdie and Gabriel García Márquez."
— Stephen Sparks, Literary Hub
"Can't-Miss New Read"
— Huffington Post
Other Works in English Translation
Vengeance Is Mine, All Others Pay Cash, translated by Annie Tucker, New Directions (2017); Pushkin Press (2017); Text Publishing (2017); Speaking Tiger (2017).
Beauty Is a Wound, translated by Annie Tucker, New Directions (2015); Text Publishing (2015); Pushkin Press (2016); Speaking Tiger (2016).