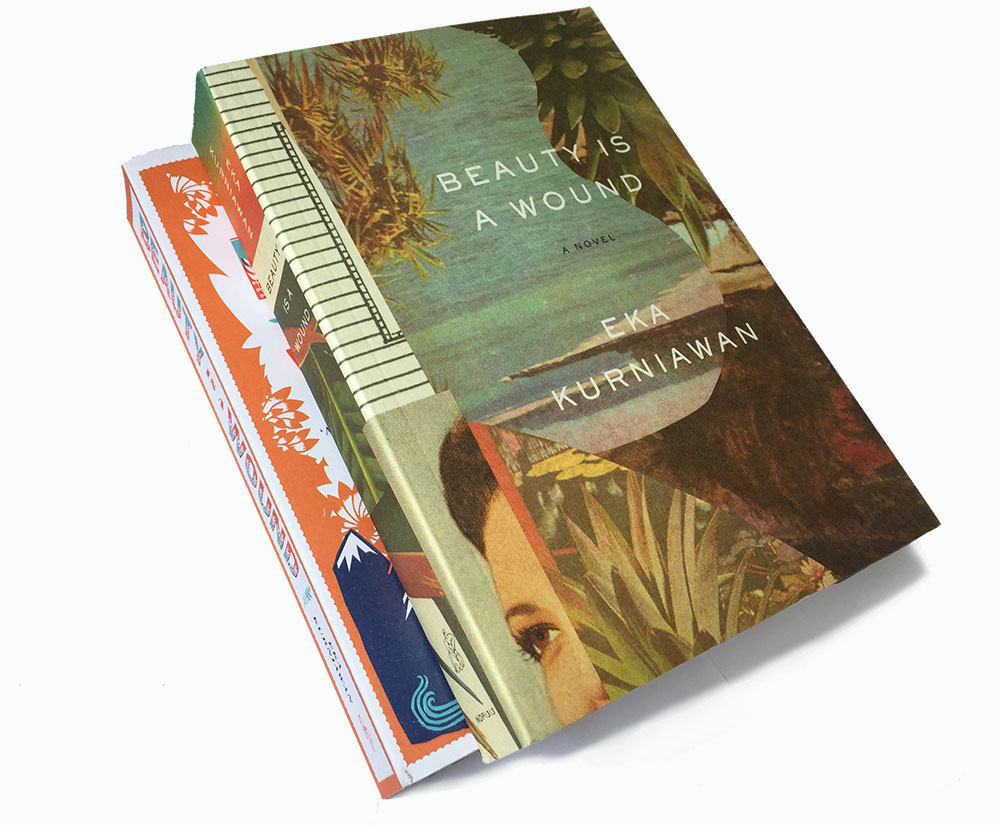 English Translation of "Cantik Itu Luka"
Translated by Annie Tucker

Published by: New Directions Books, 2015 (US); Text Publishing (ANZ); Pushkin Press (UK); Speaking Tiger (India)
The epic novel Beauty Is a Wound combines history, satire, family tragedy, legend, humor, and romance in a sweeping polyphony. The beautiful Indo prostitute Dewi Ayu and her four daughters are beset by incest, murder, bestiality, rape, insanity, monstrosity, and the often vengeful undead. Kurniawan's gleefully grotesque hyperbole functions as a scathing critique of his young nation's troubled past:the rapacious offhand greed of colonialism; the chaotic struggle for independence; the 1965 mass murders of perhaps a million "Communists," followed by three decades of Suharto's despotic rule.
Beauty Is a Wound astonishes from its opening line: One afternoon on a weekend in March, Dewi Ayu rose from her grave after being dead for twenty-one years…. Drawing on local sources—folk tales and the all-night shadow puppet plays, with their bawdy wit and epic scope—and inspired by Melville and Gogol, Kurniawan's distinctive voice brings something luscious yet astringent to contemporary literature.
Read:
---
"The combination of magic, lore, and pivotal events reverberating through generations will prompt readers to draw parallels between Kurniawan's Halimunda and García Márquez's Macondo. But Kurniawan's characters are all destined for despair and sorrow, and the result is a darker and more challenging read than One Hundred Years of Solitude. An astounding, momentous book."
– Publishers Weekly (starred review)
"Both Man Tiger and Beauty Is a Wound constitute a retort from the present to the dark times, while also acknowledging that the dark times may not yet be over. Against the killings of those years and the collective amnesia used to blank out the fate of the victims―a kind of second death, as it were―Kurniawan's fiction summons its legions of ghosts."
– Siddhartha Deb, The New Republic
"Huge ambition, abundantly realized."
– Kirkus Reviews (starred review)
"Very striking."
– Tariq Ali
"Without a doubt the most original, imaginatively profound, and elegant writer of fiction in Indonesia today: its brightest and most unexpected meteorite. Pramoedya Ananta Toer has found a successor."
– Benedict Anderson,The New Left Review
"Kurniawan's story of an undead woman had morphed into the story of modern Indonesia, an epic novel critics are more wont to compare to One Hundred Years of Solitude and The Canterbury Tales."
– Sydney Morning Herald
"A vivacious translation of a comic but emotionally powerful Indonesian novel."
– PEN America
"As translated by Annie Tucker, Kurniawan's prose is lucid and occasionally lyrical but never showy."
– Anthony Domestico, SF Chronicle
"The final wonder of Beauty Is a Wound is how much pure liveliness and joy there is mixed up with the pain, as if the verdancy of the author's imagination was racing to cover a million corpses with fresh green tendrils."
– The Saturday Paper
"Gracefully translated by Annie Tucker, the writing is evocative and muscular, with particularly spicy descriptions and some good wry humor."
– Sarah Lyall, The New York Times
"It's an astonishing, polyphonic epic, a melange of satire, grotesquerie, and allegory that incorporates everything from world history to local folk talks."
– Phillip Pantuso, Brooklyn Magazine
"An arresting portrait of Indonesia's struggle for nationhood, delights in obscenity: no topic is spared from its bloodthirsty brand of satire."
– Gillian Terzis, The New Yorker
"It is a complex, challenging, and very original novel."
– Tim Hannigan, Asian Review of Books
"A howling masterpiece."
– Chigozie Obioma
"A gifted writer can always freshen up a cliché, and Eka Kurniawan has the gift."
– John Domini, Chicago Tribune
"A touching combination of romance, tragedy, and satire."
– Harper's Bazaar
"Kurniawan does not merely traffic skillfully in magic realism; his Halimunda ― like García Márquez's Macondo and Faulkner's Yoknapatawpha County ― lets him show how the currents of history catch, whirl, carry away and sometimes drown people."
– Jon Fasman, The New York Times
"Beginning with a prostitute rising from the grave, this Indonesian folkloric epic is lush and picaresque, marking the English-language debut of a master novelist not to be missed."
– Oprah.com
Other Works in English Translation
Vengeance Is Mine, All Others Pay Cash, translated by Annie Tucker, New Directions (2017); Pushkin Press (2017); Text Publishing (2017); Speaking Tiger (2017).
Man Tiger, translated by Labodalih Sembiring, Verso Books (2015); Speaking Tiger (2016).